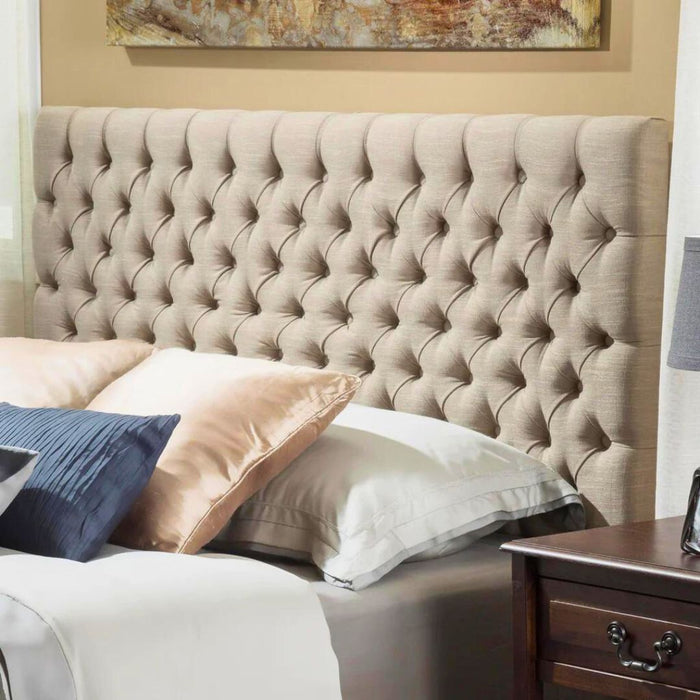 Windsor Headboard Super King (NZ Made)
Original price
$2,199.00
-
Original price
$2,199.00
Enhance Your Bedroom with the Windsor Deep Tufted Buttoned Headboard
Experience the Luxury and Craftsmanship
Immerse yourself in the sophistication of the Windsor Deep Tufted Buttoned Headboard, proudly crafted in New Zealand. This exquisite headboard is designed to elevate the style and comfort of your bedroom, adding an upscale elegance to your sleeping space.
Elevate Your Bedroom's Ambiance
The Windsor headboard, brought to you by Budget Beds, is the perfect choice for completing your bedroom's style. Its stunning button detailing instantly elevates the ambiance of your space, creating a luxurious and inviting atmosphere. The neutral pattern and modern design effortlessly infuse a touch of style into any bedroom decor.
Design Features:
Full floor standing design adds a sense of grandeur
Button-tufted detailing complements various decorative schemes
Designed for contemporary and modern bedrooms
Material: MDF, New Zealand Pine, Dunlop Foam, and Fabric
Dimensions: H 1220 x W 1710 x D 120 mm
Warranty: 5 Years
Customizable and Stylish
Upholstered in high-quality fabric sourced from Warwick and Charles Parsons, the Windsor headboard offers a beautifully textured design that is both stylish and comfortable. The tufted construction provides additional support when sitting up in bed, ensuring your utmost comfort. With its neutral tone, this headboard serves as an excellent starting point for creating your own customized look, allowing you to showcase your personal style and preferences.
The provided dimensions are approximate, with a standard height of 1220 mm. However, we can customize the height to be higher according to your preferences. Margin ±2 cm
Discover the unbeatable quality and affordability at Budget Beds - your ultimate destination for designer headboards, storage beds, and more. With our very own factory in New Zealand, we take pride in crafting exquisite designer headboards using the expertise of highly skilled upholsterers with nearly 20 years of industry experience.
Why Budget Beds?
Factory-Direct Outlet: As a direct factory outlet, Budget Beds offers the lowest prices guaranteed in New Zealand. By eliminating middlemen, we pass on the savings directly to you.

Extensive Product Range: Explore our diverse collection of designer headboards, storage beds, and other bedroom essentials. We provide a comprehensive one-stop shopping experience.

Unmatched Craftsmanship: Our team of skilled upholsterers brings their expertise and passion to every designer headboard they create. Expect exceptional quality and attention to detail.

Nationwide Delivery: No matter where you are in New Zealand, we ensure your order reaches you promptly and securely, right to your doorstep.
Visit us at our physical location at 440 Church St East, Penrose, or conveniently shop online at budgetbeds.co.nz. Before making a purchase elsewhere, give Budget Beds a try. You won't regret exploring our extensive selection and experiencing our outstanding service.